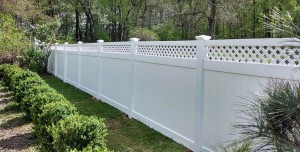 Need a sharp looking fence to keep kids and pets in your yard? Many other busy families have benefited from the quick installation of vinyl fences. Installation yourself or with a contractor is relatively quick with pre formed panels. The ease of installation extends to the fact that there is no cutting, staining, or painting involved with the project, which could make a vinyl property fence the right option for you and your family.

Maintenance of vinyl fences only requires a hose, sponge, and a mild cleanser. Spray the fence down with water after scrubbing any smudges off with the soap. Just think, you do not have to paint or seal the fence surface, and you will not even get a splinter from maintaining your fence.
There are a variety of fences to choose from to get just the right style and color that will complement your home and property. Some of the style choices include tongue and groove privacy, scalloped, pointed, or straight top picket fence, or privacy fence toppers such as Victorian picket top or old English lattice. For a distinctive look that stands out, you can mix wood grain colored posts with fence posts in the color of your choice.
Vinyl fences have a long residential lifespan. They are extremely durable as they can last 20 to 30 years. Changes in temperature and humidity will not cause vinyl to expand and contract. Since they are not painted, there is no threat of cracking or blistering paint. You will not have to worry that termites or carpenter ants will break down the strength of your fence. You will not have to deal with rusting metal parts or cracking wood. The fact that these fences are fire resistant should also add to your peace of mind.
Fences act as natural property boundaries, they can help maintain privacy and add security, but if they're wood, they do require maintenance. That's why we recommend vinyl fences for your property protection and enhancement needs! Call us today at Fence It In and we can help you set up your vinyl fence. Click here for a free quote to learn more.