Secure Your Commercial Property With High-Security Fencing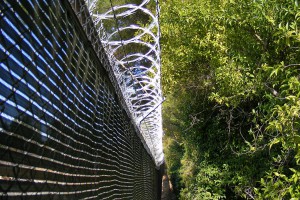 When it comes to fencing, commercial properties often have needs that go beyond residential fencing concerns. Some property owners also have unique commercial fencing requirements that are specific to their industry, while other business owners simply desire extra asset protection. High-security fencing options for businesses include traditional types of intrusion prevention as well as modern fencing options that boast a more attractive look.
Chain Link Fencing
Chain link fences have long been the choice for commercial security fencing. Chain link commercial fencing comes in a variety of heights and mesh sizes, all of which provide anti-climb security to the business. Some facilities such as airports, shipyards or chemical plants need additional security for the public safety. In those cases, barbed wire is often added to deter access. Barbed wire features sharp edges placed at intervals that is secured to the top of the fence.
Razor Wire and Concertina Coils
Facilities with the highest level of security concerns such as correctional facilities, high-security government buildings and large industrial complexes frequently choose the option to add razor wire or concertina coils to fencing. This type of protection comes with some of the highest means of perimeter security. Typically, razor wire and concertina coils both use stainless or galvanized steel. Concertina coils feature razor wires that are bound together with clips for added strength.
Steel Palisade Fence Systems
For the business owner who needs a more aesthetically pleasing commercial fencing option, steel palisade-type fencing is an attractive and highly effective solution. More than just ornamental, powder-coated steel fencing is anti-climb and can include additional security features such as anti-ram, security sensors and alarm systems. This type of fence typically uses slide gates and is low maintenance.  
Commercial properties have unique fencing needs. Not only do businesses need to protect their assets, but they also sometimes need to protect the public from safety concerns. Commercial fencing needs to provide protection against a variety of intrusions, including cutting, climbing or wedging. Due to the modern variety of fencing, business owners can be sure to find a solution that works well for the property.