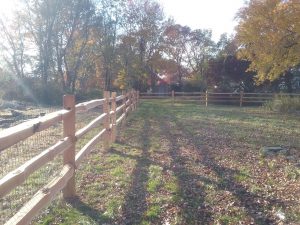 It can seem daunting to keep your fence cleaned and maintained post fence installation but once you know the right materials and methods, it can be painless. Whether you have a wood, chain link, steel, vinyl or other type of fence – there is a proper way to clean it.
If you have a vinyl fence, there is most likely grass or another form of debris which can quickly be removed with a hose. For tougher spots, you can use soap as well and manually scrub off the debris with a cloth. After you are finished, it is crucial to allow your fence to dry.
For a wood fence, some of the materials to gather include a water hose, or power washer if you have one, stain if you wish to freshen the color and look of your fence, wood cleaning solution and plastic sheets. Cleaning a wooden fence can be slightly more difficult than other types of fences, but here are some tips and tricks for you to follow. Once your fence starts to fade which may be every three or five years, you know it is time to stain it.
Protecting your grass is important and this is where the plastic sheets come into play. You can lay these down prior to cleaning your fence. Once your grass is covered, it is time to apply the cleaning solution which you can either purchase or make yourself. Next, you can spray it off with a hose. Once again, letting your fence dry is key. Once it is completely dry, you can stain the fence to be left with a new and fresh fence.
Prior to cleaning or staining your fence, it is important to know the proper materials and procedures for your specific type. For example, if you or a fence installation company installed a wooden fence you should not use paint but rather stain. Also, to keep your grass clean from any harmful cleaning products it would be advantageous to use plastic sheets.