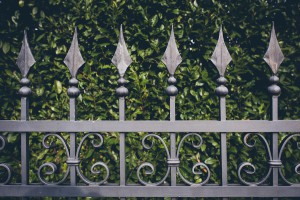 If you're thinking of having a fence built around your home, you've probably weighed the pros and cons of many different building material options. When it comes to sturdiness and aesthetic appeal, iron residential fences are solid choice with many benefits in the long run.
The most notable benefit of choosing iron for your fence is its strength and durability. As a tough, heavy metal, iron cannot be easily damaged and is a good option if you want your fence to increase the security of your home. Iron also lasts for a very long time. Wrought iron especially is notable for its lengthy lifespan. Made of iron with a very small amount of added carbon, the low carbon content of wrought iron increases its longevity beyond that of normal iron. Durable and robust, iron residential fences can save you money in the long run as they won't need any sections to be repaired or replaced as often as can happen with other, weaker materials.
Iron is also known for its beauty. The malleable nature of the metal means that it can be formed into interesting shapes and patterns. Wrought iron also has a visually appealing wood-like grain. This grain is caused by fibers of slag, or by-product of the smelting process, which become more evident when the metal is twisted or etched. From the overall shape to the detail of the texture, an iron fence is an attractive and unique feature on any home.
Iron residential fences do require a small amount of upkeep. Exposure to the elements can wear iron down and cause corrosion over time. To prevent rust, wrought iron should be painted. A fresh coat of paint will need to be reapplied every few years. With a little bit of care, an iron fence will look beautiful and keep your home safe for many years to home.
To learn more about the benefits of a wrought iron fence, contact our team at Fence It In, LLC. We're happy to provide fence recommendations as well as installations. For a free quote, click here.