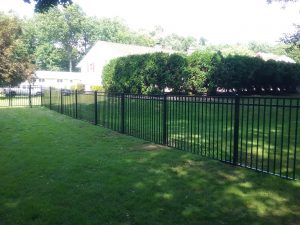 In the home improvement field, it is always nice to get two things for one. With fence installation this is easily done. You can make your home look nicer and improve the overall safety of your home and yard. A third possibility is that you might increase the value of your home property. To accomplish these positive results you will want to work with a fence contractor that has many options of attractive looking fencing.
Safety
A new fence can significantly increase the safety of your home, for you, your kids, your pets and for the neighborhood as a whole. A solid fence keeps the things you want in and provides a sturdy barrier for the riff raff you want to keep out. Children and pets can be kept in a safe environment and out of trouble. Children won't wander away and pets won't chase the mail carrier. If you have a pool, a tall fence will keep children and animals from a dangerous situation. A fence installation can also keep out intruders, solicitors, wild animals and other people's pets.
Appearance
A new fence can really accent the look of a home and a yard. They can make the whole area look neater, and some fences can even match or complement the siding of a home or business. A wide selection of fencing materials can include chain link, picket, rail, wood, vinyl and other materials and designs. You can also choose from different colors such as white, black, rust or silver. A new fence is a functional way to dress up the appearance of a home or building.
Value
Most people value the practicality of a good fence, so a new fence makes a lot of sense from a resale perspective. Also, because fences can often be an affordable upgrade, you will likely recoup a fair amount of the purchase price when you sell your home. Finally, because new fence installation tends to be sturdy and last a long time, the fence won't require a lot of upkeep.