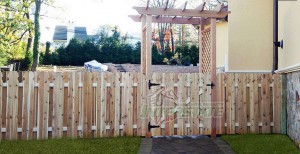 When it comes to your wood fence, there are certain maintenance projects necessary to keep it strong and healthy throughout the seasons and years. Over time, dirt and grime can make your fence look old however, if the wood is still structurally sound, a good power wash can clean up that surface debris on your wood fence quickly and effectively.
Using Proper Equipment
When you decide to clean a wood fence, consider using a pressure wash system. Once you decide power wash the fence, you first need to make sure you get the proper equipment. You'll need to be mobile in order to reach the entire fence, so go for a gas-powered model of 2,000 to 2,400 PSI. Using the correct chemicals in the power washer will be critical to ensuring your fence is clean. Acid-based cleaners are safer for someone who is inexperienced to use, but they will not get the fence as clean as it could be. Before you begin washing your fence, test the equipment away from it so that you can get a feel for how it moves. Always wash a small part of the fence first to ensure you won't cause damage, and never use hot water.
Washing The Wood
To create the right amount of pressure with the gas-powered washer, you should stand about two or three feet away from your fence before you begin to pressure wash it. This will create a fan-shaped spray that is several feet wide and at the optimum PSI to gently clean without causing damage. If it doesn't seem to be working, move closer by a few inches at a time until it does work. Never rush forward because the change in pressure will damage the fence. Rinse with fresh water. Never let the chemicals set for more than 15 minutes. Any longer will create a residue.
Power Washing Pros
When you clean a wood fence with a power washing system, you are removing dirt and grime that prevents your sealant from protecting the way it should. When the sealant works correctly, it prevents your fence from rotting and fading. While power washing is safe to do on your own, it is recommended to hire a professional who can use commercial-grade chemicals and who is trained in how to use the equipment without causing damage.
For questions about wood fence maintenance, repair and replacement contact our team at Fence It In!