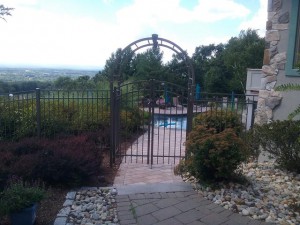 Here are some ways to add curb appeal to your property while you secure your home. Read about these options to add value and safety to your property.
Ornamental Security
Estate gates are a great way to add security to your front driveway while making a front and center style statement. Having a gate enclosure limits what vehicles can drive up to your home. Estate gates can be for pedestrians walking on your property as well. They can control the access to certain features of your yard such as a pond. Another ornamental feature that you can incorporate into your yard is a wrought iron railing.
Sporting Safety
It is said that fences make good neighbors, but it can also be said that good fences make safe neighbors as well. Fencing for sports activities encloses the action inside the perimeter while keeping neighbors safe. Keep the tennis or volleyball game inside the fence with Tuflex perimeter fencing.
Swimming Pool Fencing is a security feature that is often required by municipalities when you have a pool in your yard. This type of lockable fencing keeps your little ones as well as other children in the neighborhood safe from accidental drowning.
Decorative Protection
Some railings and fencing can do double duty as a protective barrier as well as a decorative accent. Metal faux balcony railing grilles add window protection to your home while being used as an enhancement for various architectural styles. Grates for window wells are necessary to keep kids and pets out of the wells and protect against falls. The grates come in attractive designs to add distinction to your yard.
Exterior railings next to front porch steps add to the safety of your property while giving you another opportunity to express your personal style. Even window guards can be stylish while providing the necessary protection.
Whether you provide security with estate gates or protection through fencing, wrought iron is a durable and distinctive material to use. It will add long lasting value and beauty to your property.