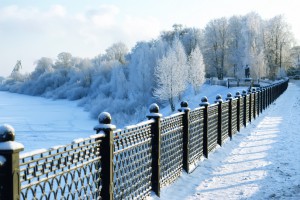 The type of fence you install in your backyard can help to define the space. There are many options in fence designs from which you can choose. Learn a bit more about your options so you can find the style that will work best for your backyard.
Picket
This is the quintessential suburban fence and one of the most popular fence designs. It looks cute and is usually short. It generally is used only for decoration and doesn't offer much security.
Split Rail
Usually made of wood, a split rail fence is good for containing animals. However, wood comes with some drawbacks, such as a need to paint it often to keep it looking good and prevent damage. Now, though, you can bypass these issues with a vinyl split rail fence. It offers all the perks with none of the hassles.
Privacy
As the name suggests, a privacy fence is the best option if you want to make your backyard an oasis away from the prying eyes of neighbors. They are usually solid and can be made of a variety of materials.
Security
A security fence is a durable and strong fence that will offer you protection. It is usually rather tall and made of strong materials, like metal, that can't be easily broken into. Of all the fence types, this one offers the greatest option if you have a swimming pool because it will prevent someone from getting in and having an accident.
Deer
If you live in a rural area, you may have a need to keep deer out of your yard. A deer fence is made to specific requirements so deer cannot get past it. Deer can be pests, destroying your lawn, garden and even lawn furniture, so if they are a problem, this can be a great choice.
Choosing the right fence is mainly about understanding your needs and the fence designs available. Choose the design that best matches what you are trying to accomplish.